We plan light to benefit the project and to give people a sense of well being. We are a team of specialists with more than 15 years of professional experience in the planning of artificial and daylight for internationally renowned construction projects.
Emerald Laminata, Kaohsiung, Taiwan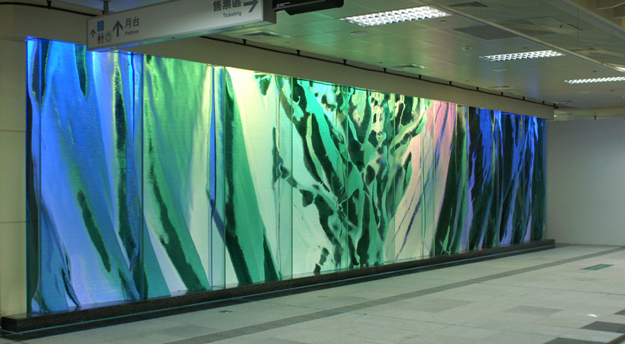 Ocean made of glass and light
The unique installation in the metro station of the international airport Kaohsiung was developed in cooperation with artists, architects and engineers from Canada, Europe and Asia: Two relief walls made of 10.200 individually cut emerald glass panels with a total weight of 70 tons – each 15 m long, 3.5 m high and a depths of 4-22 cm. It is the biggest 3D-glass sculpture in the world. We developed a lighting control that fills the artwork with life and makes it appear like a shining water surface, in which the sunlight is reflected.
Project: 3D-glass-sculpture in a metro station (International Airport Kaohsiung (KHH), R4 Station, Taiwan)
Artist: Lutz Haufschild, North Vancouver, Canada
Architect: Charles C. Chen Architects, Kaohsiung, Taiwan
Project manager and photos: Arne Fiedler