We plan light to benefit the project and to give people a sense of well being. We are a team of specialists with more than 15 years of professional experience in the planning of artificial and daylight for internationally renowned construction projects.
House of the World's Cultures, Berlin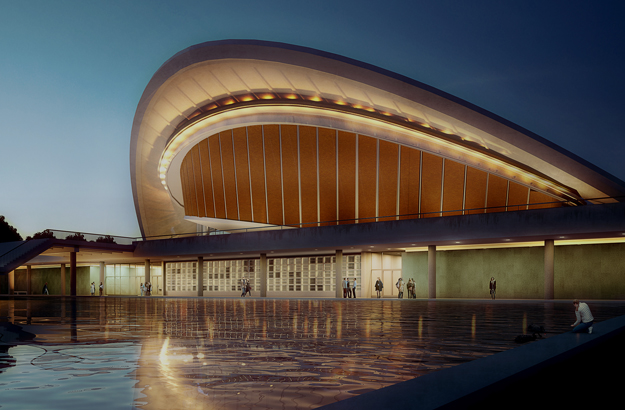 Unification of contemporary arts
Visual and performing arts. Music, literature and film. Scientific discussions and digital media. Everything is combined to a unique program. As part of a competition, the "HKW" – House of the World's Cultures – in Berlin's government quarter needed to be updated to today's technical standards, while the historical structure of the building was to be maintained. Our lighting concept of the competition intended to put the existing glass brick facade into scene via the use of hidden LED-lights. The formerly rather inconspicuous entrance area is now highlighted and can therefore guide visitors perfectly.
Project: Haus der Kulturen der Welt, Berlin
Client: Kulturveranstaltungen des Bundes in Berlin GmbH
Architect: DFZ Architekten | Hamburg
Designers, Scenographers: Skope inventive spaces, Hamburg
Competition: 1. Platz: 2014